Rental and sales
mobility scooter
,
manual wheelchair
and mobility equipments
Mobility solutions for you to enjoy full autonomy
RENT A SCOOTER FOR A DISABLED PERSON
Choose an equipment and the days you need it.
We will deliver to your adress or hotel and we will collect it.
Payment methods
Credit card, Bizum, bank transfer or cash.
Delivery and return to home or hotel
We take care of everything.
Rent with option to own
Check the available models and make no mistake in choosing your equipment.
Financing
Customized financing adapted to your possibilities.
Phone and Whatsapp support
During business hours.
Commitment to immediacy.
We know how important it is to always have your mobility equipment.
Exhibition of different brands and models
With a fleet of replacement teams.
Official Technical Service
We have our own repair shop in Jijona (Alicante).
BLOG
All the news of the sector
Information of interest so you can enjoy a full life.
We also give tips to repair electric scooter.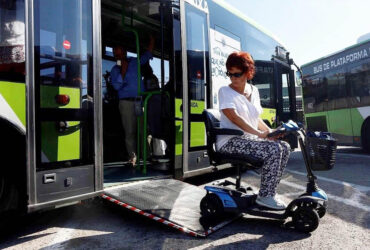 Hello! 🌞 There are many of you who have doubts about whether you can travel with your electric …
FAQ's
If you have any problem, contact us
Where can I find you and at what time?
Our physical store is located at Calle Pintor Aparicio 9, in Alicante city Our opening hours are from Monday to Friday from 10:00 a.m. to 2:00 p.m. and from 4:00 p.m. to 7:00 p.m. Saturdays from 10:00 to 14:00. We are closed on Saturday afternoons, Sundays and public holidays.
How can I contact with you?
You can contact us at our customer service telephone numbers at (+34) 965159733 and by WhatsApp at (+34) 648841256, by email at alicante@mobilityrent.es and through the forms that you will find on our website. You can also follow us on our social networks on Facebook and Instagram.
What forms of payment are accepted?
In person, you can pay for your purchases by credit card (Visa or Mastercard), cash, bank transfer or Bizum. If you cannot go to our establishment or you want to make the payment comfortably at home, you can pay for your purchases with all types of cards with the highest level of security through the Stripe gateway.
Can I receive my equipment at my home or hotel?
Yes, we deliver and collect your equipment where you indicate us, paying the service of displacement (variable cost according to location). The delivery to the hotels is carried out at the reception before your arrival and We pick up the next business day after your departure, so you can enjoy fully from your team until the last moment. Deliveries and collections are always made within our business hours. opening. We do not make deliveries and/or collections at home/hotel on Saturday afternoon, Sundays and public holidays.
Why should I buy my mobility equipment from you?
You will always be supported by professionals. All our equipment has a guarantee, we also make our technical service available to you and we provide you with FREE replacement equipment in case of breakdown or revision, something that no establishment in the region offers. In addition, we have a physical store where we advise you and help you find the best solution for you.
I want to repair my equipment, do you have a technical service?
Yes, we have our own technical service and workshop. You can repair with us your electric scooter, electric chair, manual chair, transfer crane, articulated beds... If you purchased your equipment from us, we'll leave you a replacement equipment for free while we repair yours. If you did not acquire it in our establishment, it has a fixed cost (to consult).
Do you have spare parts or parts for my equipment? What guarantee do these have?
Yes, we have spare parts and pieces from the main firms such as Invacare, B&B, Apex Medical, Forta, Totalcare, Sunrise Medical, Teyder... Our parts and spare parts have a 1-year guarantee on the sale of reconditioned/used equipment or spare parts. 3 years in the sale of new equipment or original spare parts. 3 months on repairs or installation services. Ask us what you need and we will inform you without obligation.
We are Mobility Rent, we are dedicated to giving freedom and autonomy to people with some type of reduced mobility.
All of us, at any time in our lives, can face a situation in which our mobility is temporarily or permanently reduced. At Mobility Rent we help you find the best solution to your mobility problems:
reduced mobility scooter
,
manual wheelchair h3>, adjustable bed and lifts for patients. We are experts in equipment for reduced mobility and we put all our knowledge at your service because your freedom and independence is what matters most to us. We put at your disposal our mobility aid equipment rental, sale and repair service. In the event of any problem with your reduced mobility equipment, you will be supported by our technical service and own workshop for repair scooters with reduced mobility, repair scooters with reduced mobility, repair scooters with reduced mobility, wheelchair repair, wheelchair spare parts or wheelchair revisions. As experts in the sector, we will help you find the best solution for you: you will be sure to choose exactly what you need. Trust your mobility in true professionals.
Subscribe to our newsletter
We will send you useful information so that you can enjoy a life full of mobility.