TRUST AUTHENTIC PROFESSIONALS
Reduced mobility equipment repair
At Mobility Rent we offer you our own workshop and a team of specialized technicians in case you need to repair your electric scooter, your electric or manual wheelchair or any mobility aid item. We also sell spare parts and spare parts.
We put at your disposal our technical service in Alicante and province. We also have replacement equipment while we carry out your revision or repair (conditions to consult). In addition, we move to your home for your convenience.
We work with the main brands in the sector and we have an extensive catalog of spare parts and spare parts.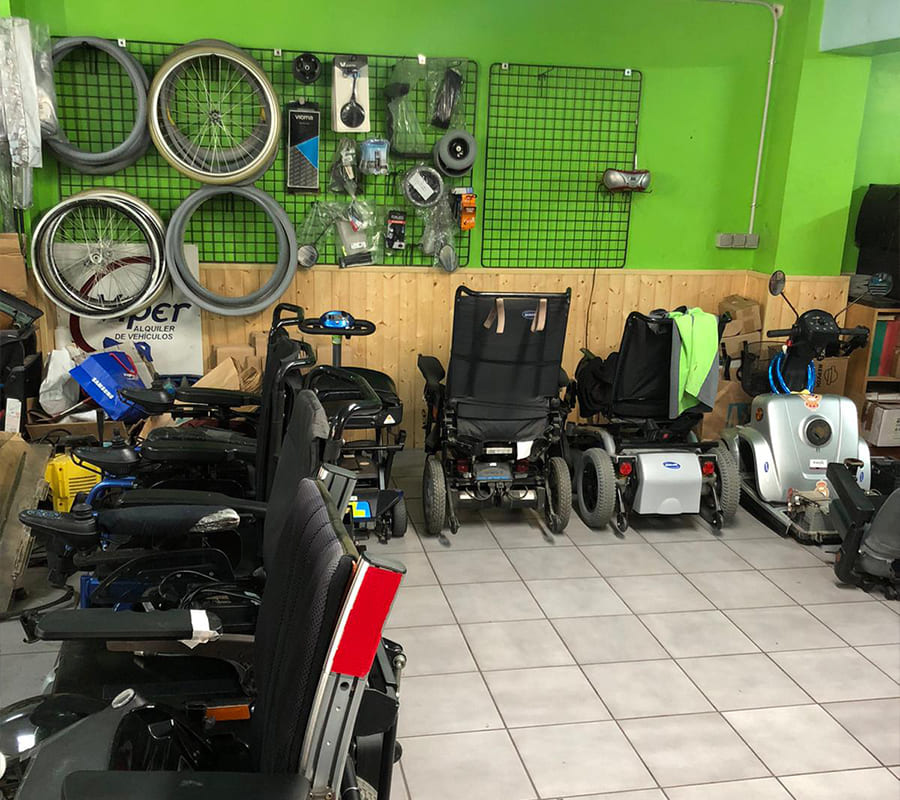 FAQS
If you have any problem, contact us
Quiero reparar mi equipo, ¿disponéis de servicio técnico?
Sí, disponemos de servicio técnico y taller propio. Puedes reparar con nosotros tu scooter eléctrico, silla eléctrica, silla manual, grúa de traslado, camas articuladas… Si adquiriste tu equipo con nosotros, te dejaremos un equipo de sustitución de forma gratuita mientras reparamos el tuyo. Si no lo adquiriste en nuestro establecimiento, tiene un coste fijo (a consultar).
Mi equipo no tiene ninguna avería pero necesito realizarle una revisión. ¿Ofrecéis este servicio?
Sí, te ofrecemos nuestro servicio de revisión en el que realizamos las siguientes tareas: Comprobación neumaticos, chasis, motor, sistema eléctrico, baterías y electrónica. Con equipo de sustitución gratuito. Este servicio tiene un coste de 70 € IVA incluido (gastos de desplazamiento no incluidos).
¿Podéis venir a recoger mi equipo para repararlo?
Sí, nos desplazamos a tu domicilio y recogemos tu equipo para su reparación. El desplazamiento debes abonarlo por adelantado y acudiremos lo antes posible. Si precisas de equipo de sustitución, comunicanoslo. También puedes dejar tu equipo en nuestra tienda física de Alicante y nuestro técnico lo recogerá en el menor tiempo posible.
¿Cuánto tiempo tardaréis en reparar mi equipo?
El tiempo varía según el tipo de avería que tenga tu equipo. Una vez recibimos tu equipo en nuestro taller, realizamos una diagnosis de los problemas que previamente nos has detallado. Previamente te habremos informado del coste de la reparación mediante un presupuesto. Si disponemos de piezas y recambios en stock, en unos 2-3 días laborables tendrás tu equipo de vuelta. Si no disponemos de piezas, el tiempo aumentará, te comunicaremos también del plazo aproximado de entrega.
¿Tenéis recambios o piezas para mi equipo? ¿Qué garantía tienen estas?
Sí, disponemos de recambios y piezas de las principales firmas como Invacare, B&B, Apex Medical, Forta, Totalcare, Sunrise Medical, Teyder… Nuestras piezas y recambios tienen una garantía de 1 año en la venta de equipos o recambios reacondicionados/usados. 3 años en la venta de equipos nuevos o piezas de recambio originales. 3 meses en las reparaciones o servicios de instalación. Consúltanos qué necesitas y te informamos sin compromiso.